Phần mềm quản lý hệ thống IoT Axiomtek- Agent MaaS Suite (AMS)
Agent MaaS Suite (AMS) is the latest software solution product released by Axiomtek in response to the trend of the Internet of Things (IoT). It is a lightweight device and data management software platform that comes with information visualization and data clouding features. From the terminal device to the gateway equipment in the middle stage, and then to the remote management platform, AMS assists users in managing and handling the tasks that they may encounter in various classes, such as protocol communication, data collection and processing, message transmission, and information presentation. AMS also puts the IoT / IIoT spirit into action by performing device and equipment management, allowing users to reduce human resources and lower technical thresholds during project development so that they can fully focus on application integration and creation of value-added services.
To exemplify the spirit of IoT/IIoT while retaining flexibility, AMS is divided into two packages according to their operational role requirements: System Management – AMS.AXView; and Remote Management – AMS.MaaS (Management as a Service).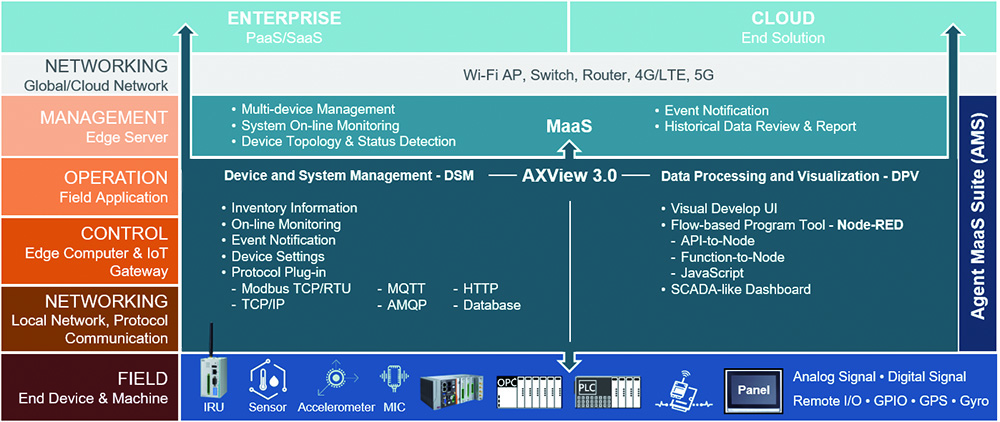 Besides providing basic device management and data processing functions, AMS.AXView also includes flexible features for a design change and functional expansion, with the main function blocks encompassing both Device and System Management (DSM) and Data Processing and Visualization (DPV).
Features of DSM
Device Monitoring: monitoring hardware platform and I/O devices, e.g.: CPU temperature, system voltage, fan speed, DIO status, USB device insertion/removal
System Management: system configuration settings and management, e.g.: accessing authority, DO settings, Watchdog configuration
Event Notification: event management and configuration, e.g.: monitoring item selection, threshold value setting, event notification
Protocol Plug-in: communication protocol plug-in (AMS supports Modbus RTU/TCP, MQTT, HTTP and TCP/UDP)
The DPV feature is built specifically to provide users with an easy-to-use operating interface. Developed under a web-based architecture, AMS.AXView enables users to manage their devices and systems from anywhere through the network. The software also integrates Node-RED, a flow-based development tool that visualizes processed data and development flow to help achieve zero programming, reduce development manpower, and lower the technical threshold. With its visualization functions and humanized interface design, AMS.AXView offers a remarkably intuitive and convenient solution that significantly reduces the effort of device monitoring, system management, configuration setup and protocol mounting, allowing users to be fully engaged in their work on application integration and service value additions.
The role of AMS.MaaS is to manage multiple hardware devices with AMS.AXView installed and to integrate all machine information so that the administrator at the remote control center can instantly grasp the status of all operating equipment and system configuration settings and keep track of event records.
Advantages
Ease of use with 4 steps (Plug – Play – Configure – Run)
* 30 mins to build up POC for time-to-market
* Easy-to-do system management, data acquisition, info visualization, message forwarding, etc.
* Zero programming required; suitable for SI, OT, IT professionals, Makers, or anyone who needs an easy way to quickly build up a POC, dashboard or application.
* JavaScript capability for data processing
* Web-based service for users to access and manage devices at any time and anywhere
Rich SW interfaces for system integration, e.g.: MQTT, REST, WebSocket, HTTP, TCP/UDP, etc.
Connection ready for AWS and Azure
Benefits
Zero programming required – reducing human resources and cost
Investment Protection
* Web-based service allowing 24/7 on-line operation and user access from anywhere
* Remotely deploy/update/modify your project
* Hardware retirement/replacement without software side effects
* Various peripheral choices
Standard protocols supported (Modbus, MQTT, REST, WebSocket, HTTP, TCP/UDP)
Cloud platforms enabled (AWS & Azure)
Specifications
Communication
Interface     RS-485, RJ-45, Wi-Fi, 3G/4G
Protocol      Modbus RTU/TCP, MQTT, TCP/UDP, HTTP, Socket, WebSocket
Monitoring
System       Voltage, Temperature, Digital I/O, Fan speed, Status and USB insert/remove Connected device for Modbus device
Develop Tool
Node-RED integrated
Programing Language
JavaScript supported
Security
Watchdog Timer to ensure normal operation
Operating per user ID authentication
System Requirements
OS                Linux Ubuntu 16.04 or Yocto 2.5.1
CPU             Intel® Atom® processor E3815 or above
Storage       16GB or above
Memory      4GB or above
Platforms
Please refer to [Hardware Platform Support List]
Hardware Platform Support List
| | |
| --- | --- |
| Fanless Embedded System | eBOX100-312, eBOX100-51R, eBOX560-300, eBOX560-500, eBOX560-512, eBOX565-312, eBOX565-500, eBOX625-853, eBOX626-853, eBOX627-312, eBOX625-312, eBOX670-891, eBOX671-521 |
| IoT Gateway | ICO100-839, ICO120-83D, ICO300-83B, ICO310, ICO320-83C, ICO500, rBOX510-6COM |
| Transportation System | tBOX300-510, tBOX324-894, tBOX500-510, UST100-508, UST500-510 |
| Fanless Touch Panel PC | GOT110-316 |
| Digital Signage Player | DSP300, DSP500, DSP600 |
| Industrial PC | IPC962-511, IPC962-512, IPC964-512, IPC974-519, IPS960-511-PoE, IPS962-512-PoE |
| Industrial Motherboard | IMB520, IMB523 |
| System Host Board | SHB150, SHB140 |
| PICO-ITX SBC | PICO312, PICO500, PICO512 |
| 3.5″ Embedded Board | CAPA312 |
| System On Module | CEM310, CEM311, CEM510, CEM511, Q7M310, Q7M311 |
| Card/Module | AX92320 |