Xây dựng cơ sở hạ tầng cho hệ thống sạc xe điện
The electric vehicle (EV) is a relatively new technology that is rapidly expanding its popularity all over the world. While the electric vehicle provides great environmental benefits and promises a sustainable future for the transportation industry, the increasing number of EV charging stations also raises new challenges in centralized management: most charging stations are unmanned, and many are far away from centralized control rooms, making operational control and maintenance a difficult task.
Challenge: Real-time Charging Stations Management and Monitoring
EV charging service providers currently face various challenges in establishing and managing this new EV charging business. One of the problems that they will encounter when deploying EV charging infrastructure is to create a network connection with centralized management, especially in suburban areas.
With this shift, EV charging service providers are looking for better ways to make their business more profitable and more efficient. They need an intelligent management system to make it easier for operators to manage equipment as well as to minimize the need for human input.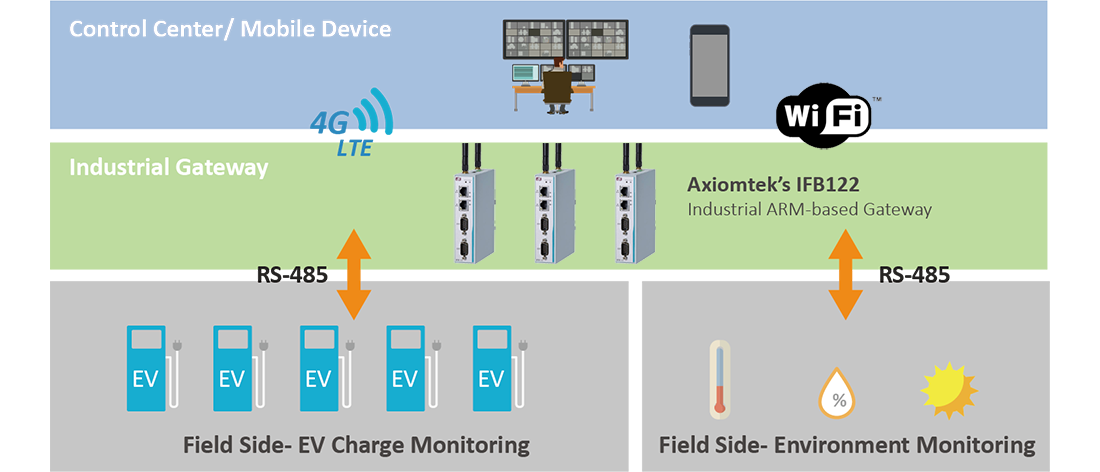 Solution: Work Smarter and Faster rather than Work Harder
In order to meet these requirements, our customer comes up with a solution using Axiomtek's IFB122 as an IoT gateway. The IFB122 is connected to charging units and sensors via serial communications to collect data for analysis and then it transmits the collected data to the control center through a wireless connection – allowing for real-time power status monitoring from practically anywhere and any device using MQTT protocol. Most critically, its onboard analytics capabilities provide real-time assessments, allowing the EV charging service providers to quickly address a problem when it comes up.
Results: Control the Narrative
With intelligence distributed and IoT gateway solutions installed based on where they are needed, EV charging service providers can implement centralized management with ease and respond to issues immediately, in the meantime achieving remote and real-time maintenance without involving additional labor costs.
Feature Highlights
| | | |
| --- | --- | --- |
| Robust RISC-based IoT Gateway | Remote Site Device Management | Intelligent EV Charging Scheduling |
| Rich I/Os for data collection and fully integrated LTE/Wi-Fi connectivity | Enhancing the management efficiency of IT system and equipment | Providing 24/7 monitoring of EV charging infrastructure |